I'm doing art for Spare Keys!
Fabulous SpiderForest collaboration time!
Lucy, our admin who makes Spare Keys for Strange Doors, had a baby! So she wrote her next short story, and I'm arting it. It's a really cool short story updating weekly and well, I'm biased cause I know what's coming up, but there's gonna be some REALLY fun stuff in the future going on. If you actively follow SK or you hang out in Skype you may already know about this.
But you should totally start reading Spare Keys if you're not already.
I mean you could read my comic too but eh.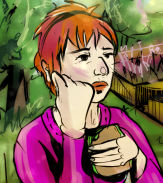 Read meh.