Re: Your comic pages, then and now
Mitsukaiten wrote:
@Tiana: Totally remember that old first page. The first time I read "Between Places" was back with your original page set.
Man, you've been there since practically the beginning, in my mind. I know I didn't join webcomic forums until after I started making BP but it still feels like, to me, that you've always been there. Maybe not a dedicated commenter, but there. I'm sure the first place I ever publicly posted Between Places was Tomgeeks, apart from ComicGenesis and DeviantArt.
Let's bring on the older comic projects, guys! Some of us are on our first comic, but I want to see other projects!
This is the VERY FIRST COMIC PAGE I EVAH MADE. It was back innnnnn September 2005! It took me HOURS, at that point in time it was the absolute crowning achievement of my artisticness, and seriously impressed people I showed it to. I was obsessed with manga, you must understand, and had just read several how-to-draw-manga-comics books. I had no awesome computer to work on, so it was sketched, pencilled, and hand-inked, and finally texted digitally, which apart from some tweaking of the contrast was the only digital work done to it.
As you can see, my ability to draw people has dramatically shot up since, however, I have a sneaking suspicion that it's probably going to remain the best ink-work you'll ever see from me in a comic. I look back at this page now and again and regret that I stopped traditionally inking as soon as I got a tablet, because I loved digitally painting more than inking (which I hated then and still hate).
I mentioned getting a tablet...
2007. This is my first 'longform' comic. Previous to this, I made a few inked pages of various stages of completion (that, though they were pretty killer ink-work too, I can't find on my computer... which is sad, because I did some pretty nice one-shot inked comics before I got a tablet and as I started learning a bit more about how to actually draw things), but this comic, I actually did ten pages before I got bored. I believe I got my tablet much earlier that year, but this is still very early tablet art for me... a few months before I got a computer capable of handling Photoshop, but I was still clearly interested in digital painting.
This was done a few months before I started Between Places. It's actually set in the same universe, with one (two, actually) of the characters who appear in Between Places, and the other character was intended to appear in a scene (that I ended up cutting) in BP.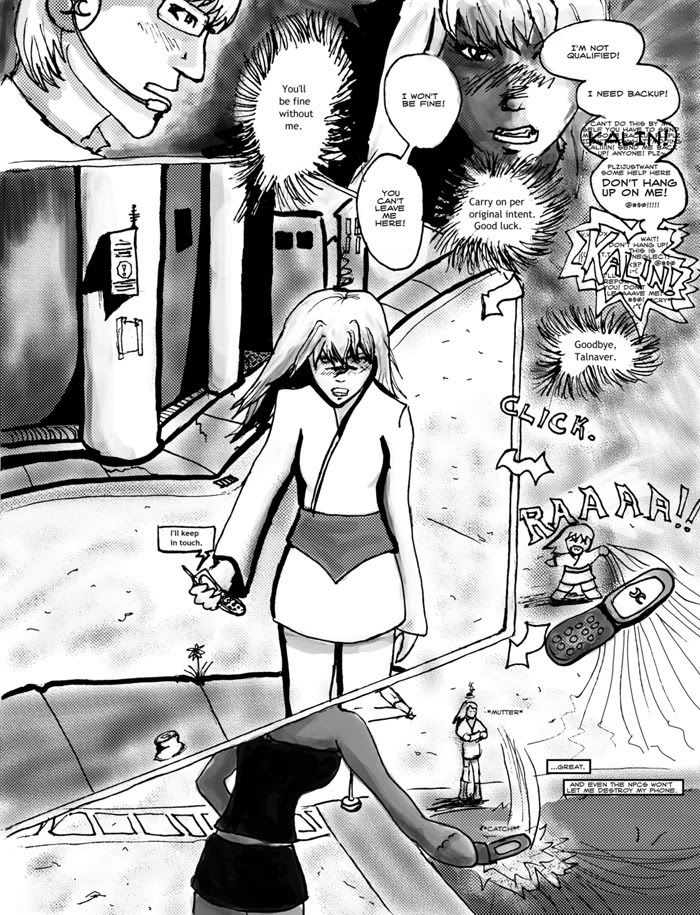 Yes.
It has arrows pointing where the panels are supposed to be read, chibification, and speedlines, and poorly used toning, and sound effects written out with asterisks, and symbols for cursing, very unsophisticated lineart, aaand is basically everything I hate in comics now.
I swear I made it. I did three pages of that comic. I thought about putting it on Comic Genesis. I already had the intent of making the script that became Between Places into a webcomic, and this was going to be the prologue.
COMPAAAARE to the page I'm doing today (the next update, for my readers, and will hopefully be finished and live tomorrow!), which is inked so it's actually a viable contrast.