Given as your dyslexia appears to be so bad as to be impeding your writing skills, I would make the art your future direction goal. You have some cool energetic, stylistic stuff going on that appeals to me, and the great thing about making a comic is, you don't actually have to tell a story with words! As it stands, your writing appears as if you were not an English native speaker–and I'm saying that very matter of factly, not as a reason to stop doing that. One of my brothers occasionally writes fiction, even though his unedited writing quality is about the same as yours.
Usually people get sucked into a comic for one of two reasons: they like the art, or they like the writing.
Anyway, I understand that you'd like to keep your style while forming it into something that looks and feels professional and could eventually be published... which is why I'm going to make what may sound like a fairly harsh recommendation: write a script for yourself that tells a story that can be understood without words. Because you can understand your writing, but you recognize that it's a weak point and finding editors is hard, writing an action-driven story that can be drawn in your style will enable you to really make your personal art style shine.
Here's a collection of examples.
http://www.creativebloq.com/comics/sile ... e-10134740
There are no words, but they can be understood because they are about action and feelings. And you will see that all of these short silent comics have different styles, because they're about the unique style of the artist. You don't need tidy English words to tell a good comic story.
I can see from your art that you're on the cusp of developing a great, gritty comic artist style that will enable you to pose your actors in a stage of your imagination and take your viewers to interesting places.
Don't feel forced to "fix yourself" to do what you want: make comics. Instead, make comics that speak your language, and draw as much and as often as you can. The more you do and make, the more you will learn. Read comics of all sorts.
Quote:
spasifik keeping carters rekinisbel
When you make a person, instead of writing out their features, draw yourself a turn-around. You can do as many or as few angles as you want, but when you go to draw a new page, then you have that basic version of your character to reference and pick colors off of. Here's one I found (because UHHH I actually haven't done this for my own characters COUGH)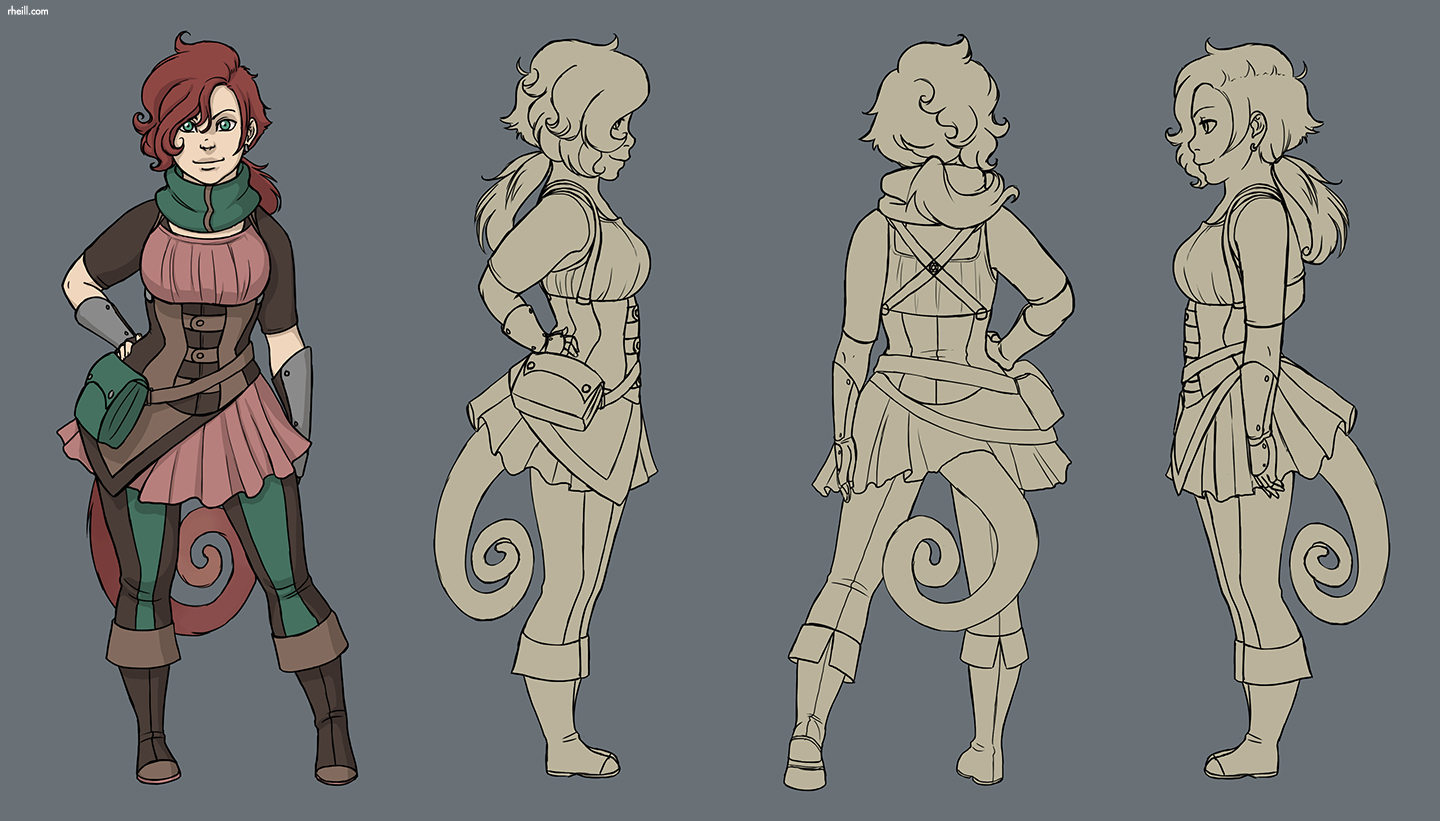 Quote:
grating more contrast in lighting composition rhythm
Rhythm? Do you like movies? Think of a comic panel as a length of time. Next time you watch a movie, if you get a little bored, count the seconds each shot lasts. A short shot would be what you put in a small panel. A long shot is what you put in a bigger panel.
Composition is a whole huge new ball park to learn. I've been doing comics for over ten years now and I only NOW feel like I've started to get an idea of how to do it... well is another story... figured out how to do it, sure. Which is why, instead of telling you anything, I'm going to unleash you on this here link. A lot of videos to watch and collections of pictures of composition, so it will hopefully be easier for you to digest and unpack than reading me going on and on. It was real helpful for me.
http://floobynooby.blogspot.ca/search/l ... matography
This will also help you learn to get more variety in your color and light, and learn to communicate with things that aren't words: creating moods with light and position and contrast. By studying cinematography, you can learn the language of visual storytelling. This isn't comics, but it will help you decide what to put into the panel and how to design a nice looking panel.
Much like film, there is an order of things that many people don't notice, it's part of the language of visual storytelling but so many people think it's just the "writing" part. To help people keep track of WHERE your character is, a scene should break down like this:
Establishing shot (a big picture that shows us what the location is)
A shot with the character obviously in that location.
Then, and ONLY after you have shown us those two things, should you zoom in to where we're only paying attention to the character. This will help readers understand "where", and then "who", before moving on to "what and why". You could do this in one panel. You could do it fairly quickly. You might do a large highly detailed establishing shot. It doesn't matter, so long as you always show us where we are and who we're dealing with before jumping into the meat of the story.
Your very first page is a GREAT example of a comic establishing shot, it's only that you don't show movement through that scene... it jumps forward with a lot of strange shaped panels and cuts. Now, I read over it a few times and I'm pretty sure I figured out what you were going for. I'm EXTREMELY guilty of strange, if not completely illegible layouts, and I would be remiss to say I don't like them. The action doesn't tidily pull through the pages though, and the layouts don't lead the eye, and then to top it off, your art, while energetic, doesn't stay quite consistent in color etc. Some of this would be helped if you moved to digital art, because the scans wash out the vibrant color that would pull it together. Some of it would be helped if you put distinct panel layouts in place–but if you decide they're not for you, always make sure to use different contrast or lighting to pull the character and action out of the background, and make sure that the action always pulls the reader's eye from left to right, down and across–like reading English. You can cheat this by using shadows and lighting to point people through the page, and this will compensate for not using borders, which is a valid stylistic choice.
Here is a video you could watch on panelling (because I figure all this reading probably isn't your cup of tea either).
https://www.youtube.com/watch?v=ZkXMbB- ... JeOg&t=27s
Anyway, I wouldn't let a problem in one area (the words bit) stop you from making a comic... picture storytelling WOO.